Swanepoel Business & Financial Advisory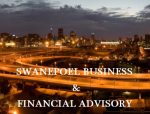 Swanepoel Business & Financial Advisory
Do you need help with Business Tax, Personal Income Tax, VAT, Payroll, Month End or the day to day accounting issues? Contact us today.
With over eight year of experience in the field of accounting & business analysis, I am well suited to meet the unique need of the individual or medium to large business.
I also specialise in internal auditing, year-end auditing & financial year ends to help you ensure your company has a sound financial basis.