Computer Repairs
The Anon IT Group do have specialized personnel to assist in the following categories:
– IT Retail — Hardware, Software & Accessories. We strive to have your requirements available within 24 hours should we not have it in stock.
– IT Repairs—All major brand IT equipment.
– Preferables — Cartridges, all types of printing, faxing, scanning, copying, laminating, emailing
– IT Consulting—Assessment and suggestions to improve your current IT infrastructure.
– Wireless Internet —By installing wireless equipment linking to the current Megasurf Network
– Internet Cafè —5 Professional private workstations
– Gaming Centre
– Networking—Install and maintain Wired and Wireless Networks.
Service Level Agreements—Keeping your current infrastructure up to date by:
– Backups of Servers and workstations
– Daily, weekly or monthly site visits
– Cleaning and maintaining servers and workstations
– Remote support
– Discount rates for In-store purchases
– High priority response time on call-outs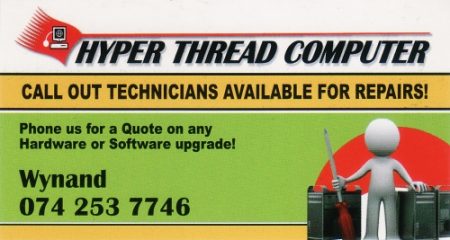 CALL OUT TECHNICIANS AVAILABLE FOR REPAIRS
Phone us for a quote on any Hardware or Software upgrades.
We do upgrades & repairs on:
Motherboards
Processors
Hard drives
Memory
Optical Drives
Power Supplies
For all your IT and Internet needs
Computer Hardware
Printers & Consumables
Technical Support
Internet
Local Service National Support
40 HF Verwoerd str, Heidelberg, Gauteng
Contact Person: Juan Venter (Manager) 087 150 2993