Health Services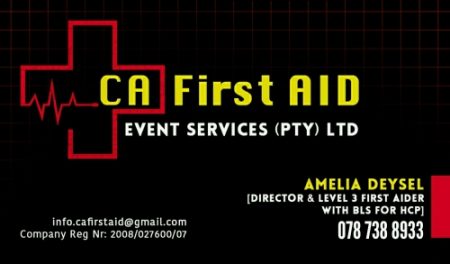 Long Business Description:
CA First Aid is a turnkey solution in supplying first aid assistance at events. These events include Sports Events, Corporate Events, Teambuilding, etc. We also supply & maintain first aid kits ranging from basic home kits, to Government Regulation Kits.
PRODUCTS:
First Aid Kits:
Vehicle First Aid Kits
Minor Body Spill Kits
Gunshot / Stab Wound Kits
Government Regulation 7 Factory Kits
Government Regulation 7 Office Kits
School First Aid Kits Club First Aid Kits
First Aid Consumables
SERVICES:
First Aid Assistance at Events First Aid & Fire Fighting Training Replenishing of First Aid Kits Stockists of First Aid Kits & Consumables
SERVICE PLEDGE:
CA First Aid pledges to deliver services & products of the highest quality, in the most efficient & cost effective manner, without taking shortcuts.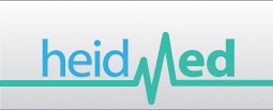 Long Business Description:
Heidelberg Medical Centre are situated in Ueckermann street. This centre includes the practices of dr Hannes Snyman, dr Bobby Koller, dr Johan Snyman, dr Siewert Alkema en dr Tinus Kruger. It also incorporate a pharmacy and an Ampath Laboratory. It offers a one stop service for all your medical needs.
Business Hours.
Mon-Fri 9:00-19:00
Sat 9:00-12:00 and 18:00-19:00
Sun 10:00-12:00 and 18:00-19:00